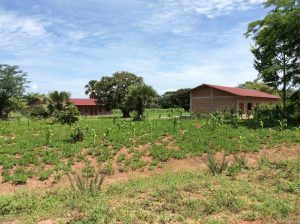 At New Hope Kobwin.
We arrived at our lodgings around 4 yesterday. We are staying in a 'guest house' at Greentree Training Farm in Ngora. It is a training facility started by a family over 60 years ago, where farmers are invited to come and learn how to grow organic vegetables and fruit trees as a way to self support. We enjoyed our tour of the gardens, mango and orange groves. Our accommodations are very clean and comfortable, and the food is very good! They bring our tea and meals to our guest house.
Today was our first day at New Hope Uganda Kobwin. It is a good 25 minute drive from our lodgings on bumpy, dusty, red dirt roads. We are having great interaction with the nine teachers (all elementary), good discussions, great comments. One of the best groups we have worked with.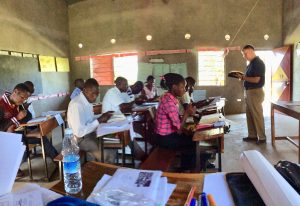 Our driver, Zak, is also sitting in on the training. He has a wonderful testimony of being raised by poor farmer parents, seventh of nine children, and the only one to go on to university and get a degree (in library science). He is a Christian man and we are enjoying his company with us this week.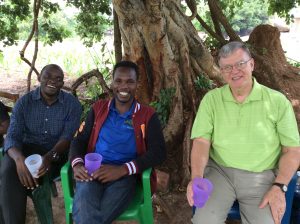 It was a good day with our workshops in this remote part of Uganda. The landscape here is different than we've experienced in country so far. There are many very large granite rock formations in this region, very much like those in the mountains of Colorado. These rocks seem to be a real asset to this area – they are used to dry the maize and cassava, and we've also seen clean laundry laid out to quick-dry in the sun. We are told we need to climb some before we leave. Not going to happen – I want to return home with all my bones intact! All in all – the scenery is beautiful!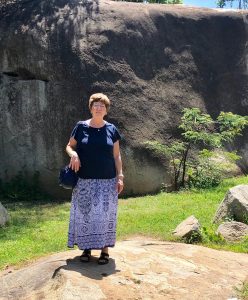 We returned to our lodgings around 5 pm, and enjoyed a heavy thunderstorm as we were relaxing, having our 'tea' and waiting for dinner. The five of us spent the evening having a great time of discussion around the table, by flashlight, waiting for the electricity to return.