Working with MIE Staff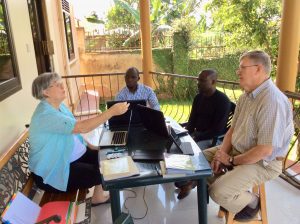 We spent the best part of today out on the front porch helping Godfrey and Eric with more of their English curriculum editing. We have a great time together, often going off on rabbit trails discussing the differences in our cultures. We are grateful for their friendship and the mutual respect we have for each other.
Later this afternoon Carla had an interview with a local teacher, Alfred, regarding our online PS78Teachers Masters program.   He has completed his application, is enrolled and he's ready to start!  He is excited and expressed his gratitude that we have provided such an opportunity for him to further his education.