Back to New Hope Uganda
This morning we left Carla with the Williams and, with Godfrey and Olga and three of their kids in the backseat, headed north back to Kasana. We did make a couple stops in the center of Kampala on the way. One, to do some shopping at the market near the cultural center, and then we went to Cafe Java for lunch. We arrived at New Hope around 4 pm.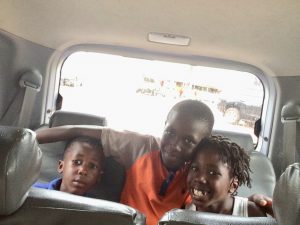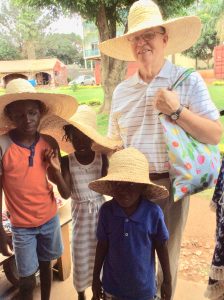 Traffic was not bad today! Tomorrow is St. Martyr's Day, a national Ugandan holiday that commemorates the death of 45 Christians who were killed for not denouncing their faith. It is a Catholic observance where people make a pilgrimage to the Uganda Martyr's Catholic Shrine north east of Kampala, many walking for miles. We passed several groups of walkers on our way. Godfrey said some of them started walking a few days ago from every corner of Uganda. Over three million people gather at the shrine.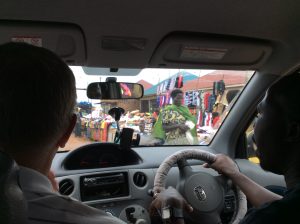 We are not staying in the guest house tonight, we are in a round structure called a hut. It is a five minute walk down the road from the guest house, a little primitive, but comfortable and self contained. (That means indoor facilities.) There is a team of about twenty people who just arrived for a week of ministry in the Kasana area, and they were taking up all the rooms at the guest house. The fun part is that this team comes from my hometown – Colorado Springs! We enjoyed eating with them and sharing. We had lots to talk about.