Safely arrived in Bogota last night, about 40 minutes ahead of schedule. However, we used that extra time up, first by a bus shuttle ride from the airplane to the terminal which took 20 minutes, and then by standing in a long line at immigration which took another 30 minutes. We were met after exiting customs an hour after landing by our hosts Bert and Cheryl Barber. We were in bed by midnight.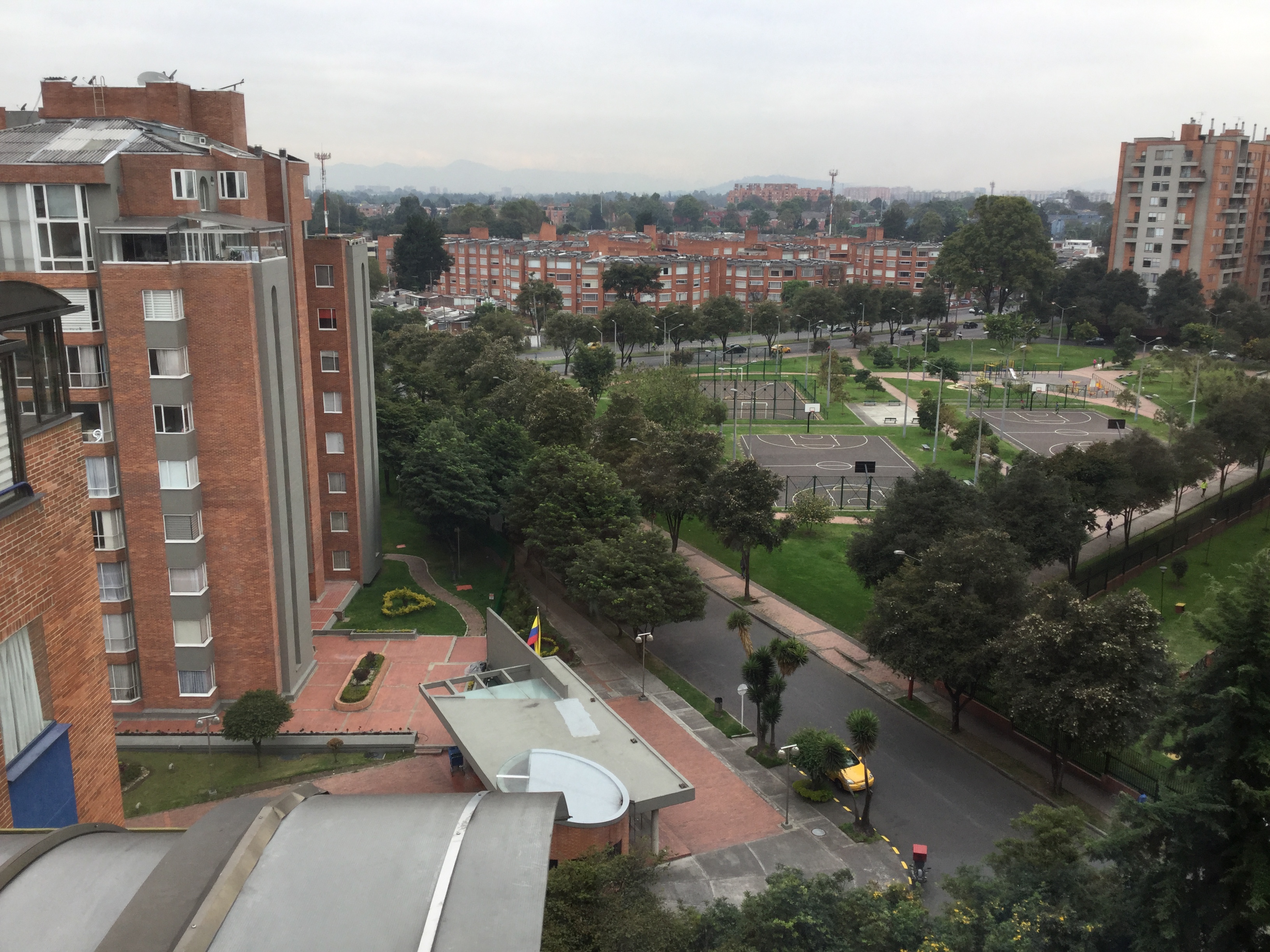 Today has been a busy day! We were up and dressed by 8 am and served a hearty breakfast on the porch of the ninth floor apartment where we are staying. We have an outstanding view of a mountain range and part of the city.
Later in the morning we walked with Carla and Lauren Dishman and her little Isaac to a fruit and vegetable market, held on Wednesday's, in front of the complex. We needed to get an avacado for the "ajiaco" soup Lauren was feeding us for lunch. This soup is a traditional Colombian soup which contains chicken, potatoes, chunks of big corn on the cob and served with rice, topped with cream, capers and avocados. The
After lunch, Dale and I made the 20 minute walk with Bert, in pouring rain, to the National University of Columbia to attend the CUR (RUF) English Club. Other than our shoes and pant legs being soaked, we had a wonderful time interacting with the students on the subject of 'Love'. September is Love and Friendship month in Columbia and the weekend of the 22-23 they celebrate their Valentine's Day. We were all given sheets of paper filled with 'love' questions and the students, and us adults, had to answer/discuss in English. It was a good time of establishing relationships while helping these Spanish speaking students learn correct English. The Dishmans and Barbers are very involved in this campus ministry.
We had a delightful evening spent at MTW missionaries Joe and Becky Harrell's. They live on the other side of the city and it took took us an hour to get there. Our rides here are dependent on taxis and Uber's – or walking in the rain. The missionaries do not have cars, they walk or hire rides to wherever they need to go.
Anyway, this dinner at the Harrell's was a gathering of the steering committee for our conference this weekend. There were 11 adults, two children and the 3 of us and we were served a gourmet meal cooked by Becky – beef tenderloin cooked in a salted cloth, crab cakes, rosemary potatoes, green beans almandine, flan and cake.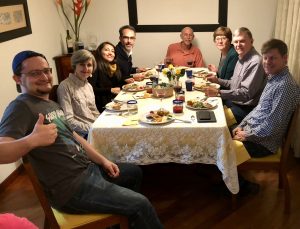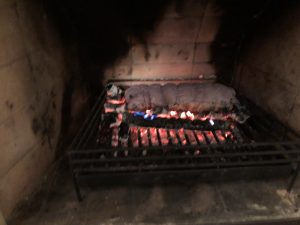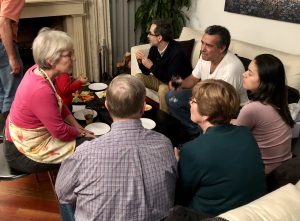 We are so impressed with the organization of this conference. There are three national pastors and two missionary pastors involved, along with their wives, plus Bert and Cheryl.