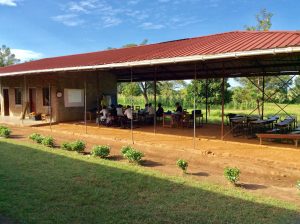 Second day of training in Kobwin.
Today we changed our classroom setting from in doors to out of doors. Yesterday it got pretty hot in the classroom we were in, so today we are in an outdoor auditorium they use for church services. A lovely breeze kept us much cooler under the hot tin roof.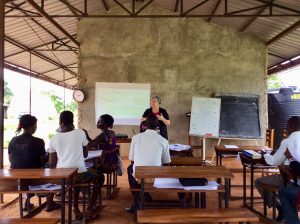 The training is going very well, even though there were distractions all around us – kids climbing rocks, local villagers coming to fill up their water cans at New Hope's spigot, cows and chickens passing back and forth, trucks loaded with firewood passing by.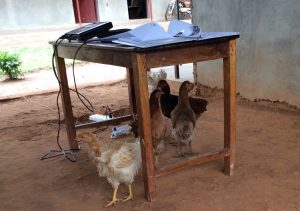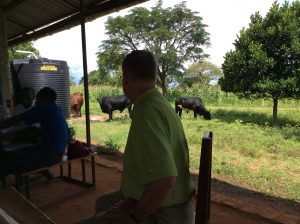 H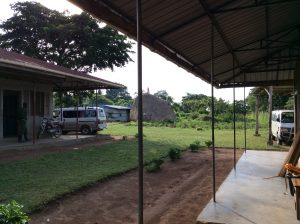 We are served lunch each day at the guest house at New Hope, and today we were invited to sit under a huge tree with several folks from all three New Hope campuses. The ladies gave me a special piece of chicken – one I love to eat!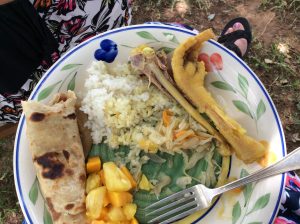 The large rocks that dot the landscape are very useful for the folks in this region.  Some lay their clothes on them to dry, but mostly they are used  to dry maize and cassava, which they grind into flours once dried.  Here are two young boys dumping their morning harvest out on the rock to dry.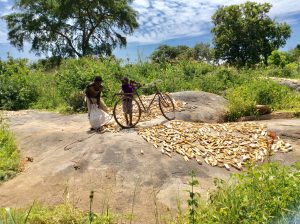 We have returned to our accommodations for the evening and are enjoying out 'tea' and fresh mangoes. The afternoon is cloudy and breezy and we are loving the coolness while I have access to the Internet, thanks to Eric who is sharing his phone's hot spot.