Entebbe Presbyterian Church
A cool rainy day in Entebbe – Not just a passing shower – It was a socked-in steady soaking rain! So disappointing because the majority of folks are not likely to come to our all-day seminar entitled "Raising Children Who Think Christianly". People depend on Boda-bodas for transportation. Would You want to ride on the back of a motorcycle in pouring rain? We were expecting over 50 people, but only a dozen or so showed up. We reminded ourselves that God is in control. This picture of the church parking lot – two cars, fifty people in the church – explains why rain is a problem.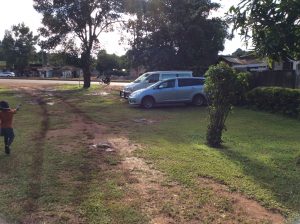 We got started around 10:15, and thankfully, as Dale started speaking, the rain slowed down to a gentler pace. When it was raining hard the tin roof made it very hard to hear in the sanctuary of this church, so when it slowed down, Dale no longer had to yell. The power had gone out earlier, but came back on just in time to turn on the Power Point.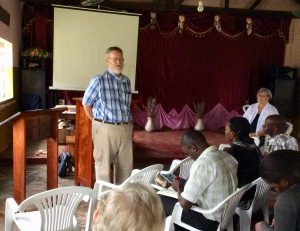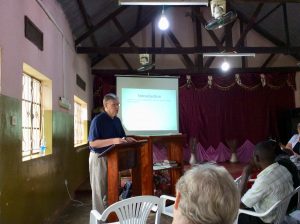 By noon, the rain had stopped and by 1:00 forty people, plus some children, had arrived. It is so amazing how the small children who are here sit quietly with no fidgeting. A small boy and girl played quietly by the entrance, holding hands and watching the rain. They were so much fun to watch as the interacted with each other.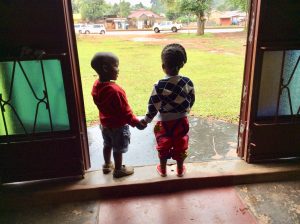 Since we started late, we ate lunch late. In Uganda lunch is served around 1 p.m. Dinner is served around 7 pm. Today it was about 2:15 before we ate lunch, and the ladies at this church prepared us a delicious, but typical, meal of matoke (mashed plantain cooked in banana leaves), rice, boiled beef, chicken, a thin gravy from what the beef was cooked in, cooked shredded cabbage, and peanut sauce. It dawned on me that they don't have the problem of deciding what to serve at a fellowship meal like us Americans who have so many food choices. We have been served a similar meal every day, sometimes twice a day, for the past week.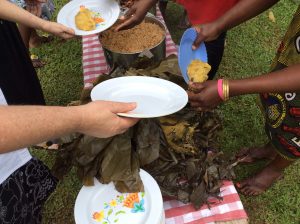 This day of parent workshops has gone extremely well, despite our worries about the rain and a very late start. We adjourned just after 5:00 pm, picked up some pizza at Pizza Hut for our dinner, and headed back to the Williams to prepare for two church services and Sunday school tomorrow. Dale will be preaching and also teaching in the Sunday school time.