Today was a slow day for me. A good day to get our clothes and belongings organized for our final four days here. Appointments we had scheduled today were cancelled because of some sinus troubles Carla has been dealing with. Nancy and Kim, a MTW missionary here, took her to a clinic in downtown Kampala to get checked over and an antibiotic. She already is on the mend, we are thankful!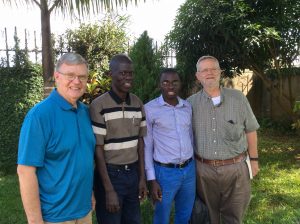 Meanwhile, Dale had an opportunity to have lunch with Bert and the Shalom Network for Church Health employees, Milton and John. They went to a Korean restaurant off of Entebbe Road. Dale had a wonderful time of fellowship with these men learning more about what Shalom Network is doing . One program they have is working with church youth (young adults), and they also have been providing training in church revitalization to 35 Ugandan pastors in various denominations. On June 5, they will be holding an all-day conference for pastors from 50 churches in Entebbe. It was a blessing to see the passion these men have for biblical growth in the Ugandan church.
Each evening this week we have had meals prepared by a lady named Betty.   She is an amazing cook, and also a really fun personality.  Tonight she made us a delicious pork dinner with deep fried potatoes and fresh mangos, and one of the MTW missionaries here joined us for dinner.  M.J., as she is called, is a nurse who is serving here for a two-year term.  It was fun evening around the dinner table.