Yesterday was a long day of travel. We were up at 3 am, and arrived in Port Au Prince at 1:30, just 30 minutes behind schedule, and waited for our new team member Quentin Natz,  to soon arrive on the Delta flight.
Our journey was pretty uneventful, but the adventure started early in the day for Esaie, our host. He left Gonaives around 6 am, an hour earlier than we left Pittsburgh, in his big black diesel truck that had recently been given a new used transmission. Almost halfway to Port Au Prince, the transmission overheated and was leaking fluid like crazy, and would only stay in one gear. The short story is that he had to lease a van and a driver to get to the city to pick us up, not to mention the few items he also needed to shop for before he got us at the airport.
We ended up waiting at the airport for him until 3:30, to begin the three hour trip up north to Gonaives. About a quarter of the way into our trip, we were stopped in traffic for well over 45 minutes because of a horrific accident on the highway where several people had lost their lives. We finally arrived at the ministry complex around 7:30, welcomed by Natacha and a delicious meal that had been prepared for us. Esaie had not eaten since breakfast!
The church service started at 9 this morning. We are always blessed to share in worship with our brothers and sisters in Christ here at Eglise Presbyterian La Trinity. Dale was asked last night if he would preach this morning, and he did an excellent job expounding Psalm 102.
After a lunch of tasty goat stew, Esaie and Natacha took us on a tour of the new three story ministry building which will house the seminary and offices for the director, the pastor of Trinite, and an office for Esaie. As you look at the pictures, keep in mind that we will be holding our workshops this week, starting at 8:00 am tomorrow morning, in what will be the seminary library. Notice in the pictures below the room that they are trying to finish today – painting, electrical, windows – all supposed to be done by morning!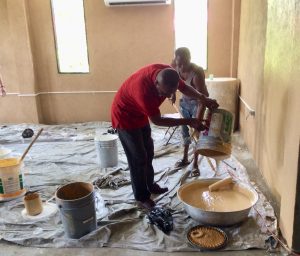 Time for a nap before supper and the Sunday evening service. . .