This evening will be the first session of our Education Conference.  A lot of  planning has gone in to this event, and we are praying for it to be an encouragement to the parents and a challenge to be raising their children biblically.
So far today, no rain! And we have even seen the sun peek through the clouds intermittently.  We can also see the mountains.  Dale and I enjoyed a walk to the grocery store –  through this park, a couple more blocks down to an intersection where we could cross the traffic, and then another couple blocksto the store.   Of course, we were on the hunt for some Colombian coffee.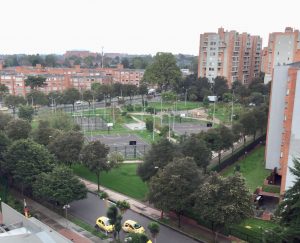 But before that, I had to go over to the apartment where Carla is staying to help her babysit young Isaac.  His nanny did not show up today and Friday is the busiest day for the Dishmans and Barbers over at the University National with the CUR ministry.  Isaac has a delightful personality!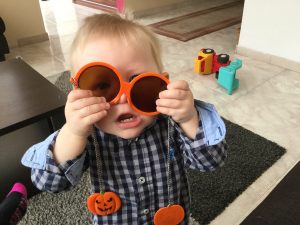 Around 2 pm we will hire an Uber to take us to United Church of Bogota where the conference will be held.   About Ubering . . . It is a way of life here.  We have had very nice drivers, and the first one we took was an hour ride, Carla, Cheryl and I were the riders.  After about 15 minutes into the ride, through rush hour traffic, we found out our driver could speak English and had been listening to our conversation.  He began to ask us questions about Christianity, and before the ride was over  the Gospel had been clearly presented to him.  Pray for David (we have met many David's here!) that God will open his heart to the truth of God's Word.  He told us that he always felt the Old Testament was just stories, (ie Noah's ark).
Since it will be late when we get done tonight, I will write about the conference in the morning.