The 2019 Uganda schedule began in earnest today with a workshop for the second and third year "teachers-in-training" at African Bible University (ABU). Carla and Quentin report that the 35+ students who attended the Foundations workshop already had a good understanding of God's Word and a heart for Christian education. This made the workshop a joy to teach. Lots of good interactions. They were impressed with the students, most of whom will be attending the inter-term course in June. We are all looking forward to having a full week with these great students.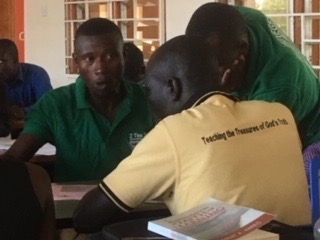 On Saturday, the half team (Quentin and Carla), along with our honorary team member Nancy Williams, met with Godfrey Kyazze to finalize the schedule for the month of May. Whew! We are tired just looking at it! The four of us will be together in some places and separated for other workshops. Godfrey, as always, was full of ideas and definitely looking forward to Dale and Linda's arrival — soon!
Nancy, Bert, Carla, and Quentin attended New City Community Church (Presbyterian) on Sunday on the campus of ABU. We were pleased to see Godfery Kyazze being presented as a candidate for elder. (Pictured are two elder candidates and three deacon candidates and their families).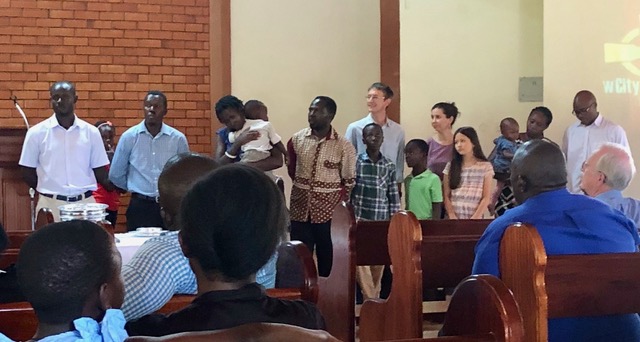 After church, the team had lunch with Palmer Roberston and his family. Dr. Robertson founded ABU 27 years ago after a full career as a pastor, teacher, and writer in the U.S. He had some great stories about God's faithfulness to bring about the university. He and Quentin swapped "war" stories about the joys, and disappointments, of leading a Christian university. (Quentin was president of Christ College in Taiwan for 8 years).

Coming up this week: Meetings and workshops with our current PS78 Teacher Education Program students! Then Linda and Dale arrive!